Sólo en un día como el de hoy, que en sí mismo es ya una sorpresa, podía enterarme de esto:
Google's other major asset – the PageRank patent – is, in fact, owned by Stanford University, but licensed exclusively to Google until 2011.

John Battelle en su libro The Search
Me pregunto qué pasará a partir del 2011…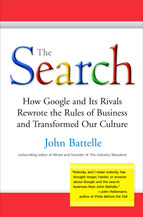 The Search1, por cierto, es el libro que me voy a leer este año como parte de mi iniciativa de fomento de la lectura: un libro al año. Éste es ideal porque tengo un día más para leer, así que quizá lo consiga.